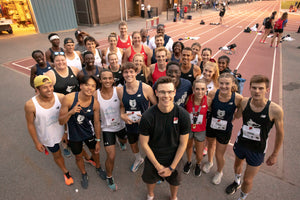 2022 Season in Review
With the trade deadline having passed a few of weeks ago and athlete feedback now complete, it is time for our inaugural CTFL season review. First off, the CTFL would like to congratulate the Bears athletes and GM's for putting together an excellent season culminating with the championship. We would also like to recognize all of the athletes who competed this year. Their drive and determination to compete and make our sport better will leave a lasting impact on the sport of track and field. This group of individuals will potentially go down in the history books as they took a leap of faith and trusted that the CTFL would be a force for positive change in the athletics community. They will now and forever be known as the first CTFL athletes.
League Success
Looking back on the season, the CTFL managed to bring together 128 of Canada's elite track and field athletes as they achieved multiple personal bests and acquired some great hardware. All this culminating in 16 international appearances, 29 top 10 Canadian performances and over half the league finishing in the top 25 Canadian performances for their respective events. The league also hosted Canada's fastest 400m hurdle race at our championship which we hope to replicate with many more events next season. On the fan side, we had approximately 120,000 fans consuming our social media content, with 870,000 impressions and over 2,000 hours of watched video. Our final 2022 media piece will be the metre-by-metre series which will be a docuseries style TV show following some of your favourite athletes throughout the season as they tell their stories and race experiences.
Athlete Feedback
Looking back on those experiences, this past season was an overall success with an overwhelming amount of positive feedback from athletes, fans and partners. Following the season, we conducted an athlete survey to see how the athletes felt about the league and where we could improve for the coming seasons. With 60% of CTFL athletes responding, we are excited to announce that 98% of those athletes will be returning. Additionally, we also found that 68% of athletes had a great experience with the CTFL and 30% had an overall good experience, with only 2% having an average or worse experience. We also asked athletes an array of questions including, how they would like funds to be allocated, if they plan on remaining in the same event, which events they want added and a few open-ended questions. The end result was very positive and provided the league with great information that will be used to improve for next year as we continue to be an athlete first league.
Here were some of the athlete testimonials when asked to describe their CTFL experience:
"So much fun! Was great to get together with other athletes on the team and work together!"
"I liked having a structured league and keeping up with the scoring table after every competition! I also loved the media/pictures and meeting new people."
"It was great for something fresh to start in Canada for track. I loved getting drafted and enjoyed the whole team experience. The meets were enjoyable as well."
"Gave me the opportunity to race against higher level athletes. I spent time with people I never have before allowing me to make new connections."
"It was cool to be a part of something I wish we had a lot sooner and I hope grows more. I felt more like a professional athlete"
"Amazing experience! it was a lot of fun, especially meeting new people & making some money as well :)"
"Awesome time! Met lots of new friends & very stoked to have such a supportive and motivating platform to compete and have the opportunity to thrive!"
"The CTFL brings a team aspect to outdoor track and field in Canada, which has been lacking since universities don't have an outdoor season. The CTFL is great and I love it."
Future Seasons
Headed into 2023, the CTFL will be investing in a complete overhaul of our media production to increase overall quality and provide fans and athletes with more content. The league plans on expanding its events to now include 10 disciplines. Additionally, the CTFL will be adjusting its format with each discipline's roster increasing to 12 athletes per event/gender compared to the maximum of 8 athletes which was used this past season. This in turn will create a playoff format whereby only the top 8 athletes per event/gender will be asked to compete at the championship, thus increasing the stakes for each team and ensuring that the CTFL championship will have a full final.
To conclude, we at the CTFL are extremely excited about what the league accomplished in its first year. As we look a head to 2023, you can expect a larger media presence, better performances, new elite athletes and an entertaining championship battle. Thank you all for helping us build up our sport of track and field, and we look forward to continuing to serve this amazing community for years to come.
---