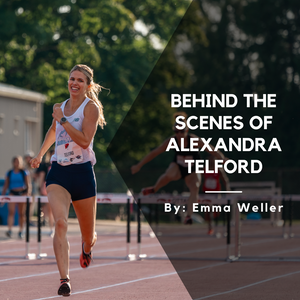 Behind the scenes of Alexandra Telford
By: Emma Weller
After years of injuries, mental health challenges, and tough financial decisions, Alexandra Telford is beating the odds and breaking records in the track and field world.
Half of her life has been spent on the track, which in reality means 13 years of extreme sacrifice and perseverance for Telford.
26-year-old Telford is a high-performance track athlete striding to make a Canadian National Team in the next three years. Amidst her competition, she recently graduated from Carleton University with her master's in architectural design.
She has not had an easy ride to her successes.
She began running with the Ottawa Lions Track Club at the age of 13, years later competed in U-Sports with Carleton, and now she is getting a taste of competing with the Canadian Track and Field League after being drafted in the first round.
With roughly 30 hours of training a week and sponsorships being hard to come by, Telford has had to make financial sacrifices to keep her success alive.
"Money has definitely been a big factor and I think I underestimated how tricky it would be to lose that independence that you feel when you're working full time, and in the end, I was fortunate enough to be able to move back home with my parents," said Telford.
After finishing her undergrad in 2018, she began working in her field at a firm for 15 months before returning to Carleton to complete her Masters during COVID-19. For Telford, the timing was a blessing in disguise as the virtual lifestyle allowed her to train more and recover from her previous concussions.
In 2021, she was drafted first overall in the CTFL right after her final U-Sport competition.
"I was feeling very proud of myself, and my hard work has paid off and it's being recognized by people who don't owe me anything but drafted me to their team," said Telford after discovering the results.
Her goal is to compete and represent Canada internationally between 2024-2026.

"You're putting in the same amount of effort but all you have is your progress to look at," said Telford. "It's not good for your self-esteem to put that much energy into something and not feel like you are being compensated for it."
Telford explained that she understands why track is not profitable compared to other team sports as she trains for races that are less than a minute, but, it is a sport where people need to invest in the athletes and their stories.
"It still feels like your journey but then you can't help but feel the expectations of the people that have kind of opened up to support you, so when it comes to things like a bad training week or bad race, suddenly your thinking I'm disappointed but now all the people invested in this journey, what are they going to think?"
Admittedly, Telford underestimated the sacrifice required to be a female track athlete in her mid-twenties fighting for a chance on the world stage.
"It seems like a point in time that finding a solid job and having a good chunk of savings seems like the smart thing to do so it sort of makes you question when you have those down weeks and good weeks, is this a good idea?"
This season, Telford has steered clear of major injuries and is hitting personal bests so by hitting these goals right now, she knows she is still making the right decision to continue forward in the sport.
So far, she has competed in Boston, California, Portland, Ottawa, Windsor, Belgium and British Columbia this season.
In Belgium on July 12th, Telford hit a new personal best finishing in 53.79 seconds in the 400m.
At nationals in Langley, BC at the end of July, she came fourth in the women's 400m hurdles with another personal best of 58.51 seconds and came first in the women's 4x400m at 3:50.18 minutes.
She is continuously breaking barriers and going against all odds - she is an inspiration for younger athletes following in her path.
"Every so often, I'll get a few middle school and high school kids that have been following my university racing and they will reach out to me for advice on track meets," said Telford.
She says she cannot commit to giving back to her community in the ways she wishes right now due to her intense schedule, but she looks forward to the day she can.
To finish off this record-breaking season, Telford's mixed 4x400m group ran a Canadian club record of 3:30 minutes in Ottawa on Aug. 16.
Up next on Telford's agenda: the 2024 Paris Olympics?
---