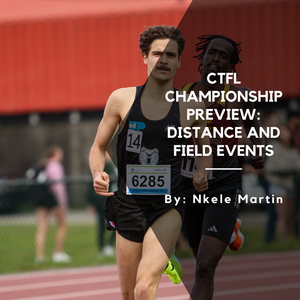 CTFL Championship Preview: Distance and Field Events
With the CTFL championship less than one week away, let's take a look at the final meet of the season. We'll be looking into each race, talking favourites and dark horses based on statistics.
Athletes are ranked based on points earned from CTFL preliminary meet marks, free marks, and bonus points for attending meets. Runners in first place may not necessarily have the fastest time in their event, just the most points between their marks. See this link for more information.
With one race left, anything can happen. Upsets and unexpected results are inevitable.
Mens
This race promises to be tight, as less than three seconds divides the best times of leader Alanzo Ryan from eighth-placed Michael Petersen. Ryan, who ran his personal best of 1:49.30 this year at the Royal City Inferno Track and Field Festival in Guelph, Ont. is the only runner in the division with a sub-1:50 time. He is followed closely by second place the Arctics' Adam Schmidt, who recorded a time of 1:50.01 at the same meet. As only two of the following six runners have marks over 1:52, there will be little room for error for Ryan and Schmidt if they hope to be champion.
Womens
Spitfires' Sydney Smith leads the division with 50 points, placing first in both the preliminary and free mark. This season, Smith ran her personal best of 2:03.76. She was also part of the 2022 National Champion 4x400m team which featured CTFL athletes Alexandra Telford, Doyin Ogunremi and Lauren Gale. In second place is Bears Sadie-Jane Hickson, who has a free mark of 2:04.88 and a preliminary mark of 2:04.84. Although both of Smith's marks were faster, it is very possible for Hickson to come out victorious. Behind Hickson, there is a four second drop off to third place, eight seconds to fourth and sixteen seconds to fifth.
Mens
This division had the most exciting finish of the season at the Royal City Inferno Track and Field Festival in which Alec Purnell (Huskies) and Simon Berube (Bears) crossed the finish line within 0.01 seconds of each other. The race was decisive, and without his marginal win, Purnell would have lost his leading spot to second-placed Berube. It is unlikely that the final race ends in the same spectacular manner, but neither runner is a "lock" to become champion, as bettors would put it. Third-placed Kenya Small of the Huskies is the only other athlete to have recorded a sub-3:45 time, running a 3:43.95 in the race that saw Purnell and Berube finish side-by-side. If Small can shave off one second from his best time, he may be able to secure the championship, but look to Purnell or Berube to cross the finish line first.
Womens
Unfortunately, due to many of the women's 1500m athletes sustaining injuries while at the Bell Canadian Track and Field Championships in Langley, the CTFL has made the difficult decision to cancel the women's 1500m due to issues with the venue. The remaining athlete Sydney Pattison will compete in the women's 800m at the championship and is guaranteed to win the women's 1500m discipline as a result along with the $400 prize.
Mens
Arctics Matthew Lozano leads with 45 points, his fastest time this season being 14:39.75. Second-placed Thomas Laviolette holds the fastest time in the division, running a 14:33.00 at the Canadian Championships on June 21 in Langley, B.C. Despite having the fastest free mark, Laviolette sits in second due to his 14:48.80 preliminary mark, the fourth fastest in the division. As the only sub 14:40 runners, Lozano and Laviolette look likely to compete for the CTFL championship in the men's 5000m. Third-placed Robert Lawand - who ran 14:44.71 - and Fourth-placed Samuel Kinahan - a 14:42.52 - may challenge the frontrunners.
Womens
Spitfires Erin Mawhinney leads the division in both marks, with thirty seconds between her and the second fastest runner. Mahwinney's time of 16:09.69 was her personal best, and she will try to beat that in the championship. Two runners that may make a push for the title are fifth-placed Becca Brenman (16:41.26) and fourth-placed Elizabeth Vroom (17:06.00).
Mens
Less than one-tenth of a meter separates the three longest jumps in this division, but Huskies Olorunfemi Akinduro has the longest jump (7.38m) and the most points with 42. Joshua Foster (7.32m) and Eric Che (7.30m) have the closest marks to Akinduro, the 2022 national champion in the triple jump. An athlete to watch out for is sixth-placed Kenneth West, who jumped 7.29m at the Bob Vigar Classic, a CTFL preliminary meet. West has a personal best of 7.36m, the second longest in the division. 
Womens
First and second-placed Maria Okwechime and Jasmine Lew are the only athletes in the division to break the six-meter mark, Okwechime with 6.23m and Lew with 6.10m. The two will likely compete for first place, but third-placed Tayah Desousa - whose 5.85m free mark is tied with Okwechime - could prove to be fierce competition.
Mens
With over a one-meter gap between the next athlete, Spitfires Seth Edwards looks like a strong contender for CTFL shot put champion. Edwards won the 2023 Barbadian national championships in the shot put and discus throw, and has a free mark of 16.07m and preliminary mark of 15.54. With dominating distance between him and the competition, Edwards chances of winning once again are likely.
Womens
Spitfires Liv Sands finished the season in first place with 46 points, but did not record the farthest throw this season, that belongs to Arctics Erika Fiedler. Fiedler has a converted 15.28m, compared to Sands' 14.58m. 
---