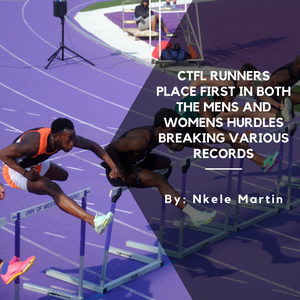 CTFL runners place first in both the men's and women's hurdles at the Bob Vigars Classic, breaking various records
Nkele Martin
CTFL athletes dominated the hurdles event this past weekend at the Bob Vigars Classic in London, Ont.  Artics utility athlete Michelle Harrison and Bears core athlete David Adeleye ran a season's best 12.86 and 13.92, respectively. 
While both athletes broke meet records, Harrison broke the stadium record of 13.16 that had been standing since 2001.
Harrison said this run came at the end of  what she described as "a rough couple of weeks."  "I was sick, I broke my finger, and had a little bit of a hamstring thing going on," she said.
Regardless of the setbacks, the Saskatoon native said she was confident going into the race. "I PB'd in the 100m and 200m just a couple weeks ago, so I knew my speed was there," she said.
Harrison ran a seasons best 12.90 (+0.4) in her heat, but was hoping to beat that time in the final, which she did with a time of 12.86 (+0.5). 
"It kind of reaffirms where I'm at," said Harrison. "Even though things were a little rocky, everything is still there and should improve moving forward."
For Bears athlete Adeleye,  this was a memorable race.
Having been at the Alumni Stadium since 10:40 a.m. and not running until about seven hours later, Adeleye said he was slightly fatigued going into his first race.
"I was feeling kind of tired," he said. "I felt zapped from the heat."
Despite this, Adeleye said successful training with his coach left him feeling prepared. 
"After all my friends were [running personal bests] I was like 'it's a good meet and conditions are well, so it's my best chance to PB.' I thought I was capable of breaking 14."
Adeleye ran a 13.92 (+1.4) in his heat and a 13.93 (+1.6) in the final, finishing first in both.
The sprinter credited his footspeed  - something that he had been working on - as the deciding factor of the races.
"Me and my coach have been working on… footspeed, the speed in between hurdles, as opposed to hurdling itself," he said. "I feel like that's what made the difference in the race I just ran."
In addition to winning both races, Adeleye accomplished something he'd never done before, breaking the meet record of 14.02.
"It's my first meet record," he said. "It was special to me."
Moving forward, Adeleye says he wants to focus on having a "cleaner" race, clearing more hurdles. 
By placing first,  Adeleye won 25 points for their respective teams. Additionally, Harrison sits atop of  the Utility athlete standings which comes with the accumulation of 75 points for the Arctics. Harrison's Arctics sit in second place while Adeleye's Bears are in fourth, just behind the Huskies.
---