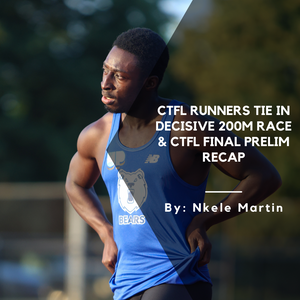 CTFL runners tie in decisive 200m race
Nkele Martin
At the final preliminary meet of the Canadian Track and Field League, in Ottawa, on July 5, first and second-place 200m athletes Bertwin Ben-Smith and Sebastien Regnier ran identical races. 
Ben-Smith (Bears) and Regnier (Arctics) were the top two runners in the men's 200m division with just three points separating them coming into the final meet. Ben-Smith led the division with 43 points, but Regnier only needed to run 21.81, 0.02 seconds faster than his previous preliminary time, to take the lead. 
The day before the race, Regnier was confident that he could beat that time, having run his best ever time of 21.58 just two weeks before at the Johnny Loaring Classic in Windsor, Ont. 
"[Hopefully I'll] be in first tomorrow evening after the race," he said.
Despite being in different heats, both athletes ran a 21.86 at the Terry Fox Athletic Facility. According to the Ottawa Lions results, Ben-Smith edged out his competitor by 0.007 seconds.
As a result of their times, Ben-Smith remains in first place with 46 points and Regnier sits just behind him with 43. With no more preliminary meets left in the CTFL season, Regnier will be unable to move into first as the athletes head into the championship unless another runner beats Ben-Smith's free mark time of 21.78 by the Championship.
The two will have the chance to compete head-to-head at the CTFL Championships on Aug 5, in Ottawa.
Notable Performances
Jonelle Halog (Huskies), who was fighting multiple runners for a spot in the CTFL championship, won the men's 100m finals and moved from 7th to 5th in the division with a season's best of 10.72 (+ 1.2). Utility athlete Lauren Gale (Arctics) won the women's 200m with a time of 23.48 (+0.7), her second fastest of the season.  
Quinn Coughlin (Bears), Alexander Collins (Spitfires), Saj Alhaddad (Arctics) , Bryson Patterson-Blasse (Bears), Audrey Goddard (Spitfires)  Maria Okwechime (Spitfires) and Brianna Asiamah (Bears) also won their respective events at the meet.
After the final prelim meet, the Spitfires retain a comfortable lead with 1,431 total points and the Arctics remain in second with 1,215 points. The Bears rose into third with 1,199 points, with the Huskies falling to last place with 1,179 points. 
Athletes have until July 17 to improve upon their free mark, gain points for their team and possibly claim a spot in the CTFL championships on Aug. 5, in Ottawa.
---