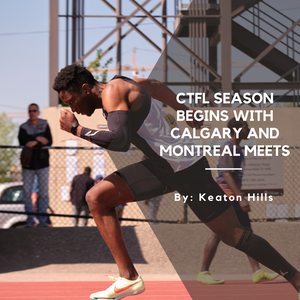 CTFL season begins with Calgary and Montreal meets
The second season of the Canadian Track and Field League (CTFL) began with a meet hosted by the University of Calgary Athletics Club, May 13-14 and a meet in Montreal hosted by Saint-Laurent Select on May 20th. These were the first 2 of what will be six meets this summer ending with the CTFL Championship in Ottawa on August 5th.
The first two meets were highlighted by 100-meter, 200-meter and 400-meter sprints as well as Sprint hurdles for both men and women. Other events such as long distance 800 and 1500 meter runs as well as long jump and shot put will be featured at future meets.
Athletes are divided into four teams, the Spitfires, the Huskies, the Arctics and the Bears. Athletes can get points for their respective team through free marks which is a mark that can be awarded at any certified track meet in the world, prelim marks which are awarded at the CTFL meets and if they are top 8 in their respective event they will get a Championship mark on August 5th.
Tinashe Viriri made his CTFL debut at the Calgary meet where he ran in the 200 meter event for the Huskies. Viriri posted a time of 22.17 seconds putting him in second place in his event and gaining 20 points for the Huskies.
"Honestly I did well…I only started track when I was 19 years old so I'm pretty young to the sport and I'm only starting to get faster now so an opportunity like this is great for to actually see where I am and get faster and hopefully I can go pro one day," said Viriri.
The Spitfires led in the standings after the first meet with 477 points with the Arctics and Huskies not far behind with 324 points and 315 points respectively and the Bears came out on the bottom with only 217 points. THe Spitfires further widened their lead bringing themselves up to 618 points in Montreal as the Artics fell on the bottom after only gaining 71 points form  the previous week. The Huskies now sit in second with 451 points and the Bears in third with 412.
The CTFL's team format is unique in the world of Track and Field and has brought the entertaining elements of team competition to an individual sport.
When asked about the unique team format Viriri said that this is exactly what Track and Field needs and what Canada needs.
Viriri said that the experience of his first CTFL meet was great overall and had an enjoyable atmosphere however not as many people showed up as he expected and he would like to see more people at meets.
"I'm enjoying my time in the CTFL. I hope it grows and I want to see more athletes participate," said Viriri.
On May 28th the CTFL went to London, Ontario for it's third prelim meet.
By: Keaton Hills
---