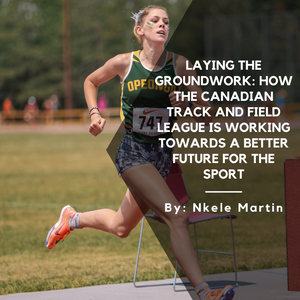 Laying the groundwork: How the Canadian Track and Field League is working towards a better future for the sport
Nkele Martin
In its second year, the CTFL has grown from 128 to 232 athletes. The league features former Olympians, national champions and various Canadian record holders. Halfway through its 2023 season, CTFL athletes have seen huge success, such as Usheoritse Itsekiri, who ran the fastest 100m on Canadian soil with a time of 10.02 (+1.4). 2007-born Timeo Atonfo, Quinn Coughlin and Grace Streek will be competing against some of these superstars this season. 
To put this into perspective, when 18 year-old Huskies long jumper Jonathan Balogun recorded 5.99m at the Sherwood Park Track Classic in 2012, Atonfo - who he will be competing against this season - was just four years old. 
At 15 years-old, Atonfo is the league's youngest athlete. He began competing in track and field events in the fifth grade, immediately excelling due to his raw talent.
"I was naturally gifted [with speed]," he said. 
Competing in the long jump this season, Atonfo is also an elite runner in the 100m and 200m for his Ottawa high school, Gisèle-Lalonde. 
Despite competing for many years, Atonfo said he began taking the sport more seriously during the 2021-2022 school year and decided to join the Ottawa Lions Track and Field Club that summer. Before joining the club, Atonfo said his training was done alone and consisted mainly of exercises he found online.
 "I thought I was jumping pretty good, but my technique was horrendous," he said. "With the help of my coaches, it's been getting better. I've seen a massive improvement in my personal bests."
During the 2022 OFSAA championships he excelled, taking home the gold medal in the 300m hurdles and a silver in the 100m hurdles.
Fellow Ottawa Lions Coughlin and Streek - similar to Atonfo - both said that their ninth-grade year saw them take their sport more seriously, which yielded positive results. Coughlin placed second in the 400m at the OFSAA championships, Streek third in the 5k cross country championships.
To CTFL founder and CEO Quinn Lyness, the entry of athletes this young came as a surprise. 
Lyness, 23, said he believes the league can provide immense benefits to young runners, especially Atonfo, Coughlin and Streek.
"Now they're competing against university athletes head to head [instead of] in different divisions," he said. "It's a really good opportunity for these young superstars because now they have access. They would've never had that kind of access to all these athletes."
Learning from some of the countries' best athletes excites the young Atonfo, who said, "I know I'm the youngest, so [I hope] I can learn from all the other athletes and take all the knowledge I can in."
The league, which had its first meet on May 13, features four teams - the Bears, Huskies, Arctics and Spitfires - who are competing for the CTFL championship. Each athlete has three attempts, called "marks" to gain points for their team.
Coincidentally, the three athletes are all teammates, competing for the Bears this season. 
Although they all see this opportunity as a great learning experience, the three youngsters know that the CTFL season is going to be challenging.
For Streek, who primarily runs cross country, this season will bring an extra challenge. She will be running the 5,000m, an event that is new to her.
"I've never really raced the 5k on a track," she said. "That was our cross country distance for this year, but I've never run it flat. Only with hills."
Just last month, Streek was slowed down by a knee injury which caused her to take five weeks off. Able to train once again, she says she is doing everything she can to be ready for her first CTFL race on July 5.
Streek says the pedigree of her opponents is slightly intimidating, opponents such as utility athlete Julie-Anne Staehli, an olympian who placed 32nd in the 5,000m at the 2020 Tokyo Olympics.
"It feels a lot bigger than racing at that point," she said.
Streek's friend and teammate Coughlin, while nervous, is feeling optimistic about the season.
"I'm not overly intimidated. I'm going to go and do my thing, and have fun with it," she said. "I'm just trying to turn my nerves into excitement."
A huge fan of track and field, Coughlin began supporting the Bears during the league's inaugural season. "They started doing well early in the season so I was like 'okay, this is definitely the team I'm going to really like,'" she said.
One year later, she was drafted by them. 
Competing in the 400m, Coughlin will look to beat her best time of 56.77 set on June 8, 2023 at the 2023 OFSAA championships.
In their first season, the athletes are hoping to succeed amongst fierce competition. Coughlin will be competing against the Artics' Lauren Gale, a member of the 2020 Tokyo Olympics 4x400m relay pool. Coughlin called Gale, along with Huskies ambassador Melissa Bishop-Nriagu some of her idols in the sport. 
One month before their first CTFL preliminary meet in Ottawa, the teammates are hoping to achieve the goals they made for the season. 
 For Coughlin, "just [to] be up with the girls in front would be really nice," she said.
"I'm hoping for a personal best for time, right now I have 18:10 as my best." Streek said. "Also, to qualify for championships… And just to feel good with the season, not have my knee be reinjured and just have fun."
Atonfo said he is looking to break seven-metres in the long jump, as he is the only long jumper who has yet to reach that length. "It's going to be a great environment to get a good PB," he said. "I'm just going to compete and show them what I can do."
Founder and CEO Lyness said that young athlete's participation is beneficial to the league, as it attracts a younger audience.
"It introduces a whole new demographic for the league," he said. "I see it with Quinn Coughlin, who I coach directly… a lot of her friends are now getting involved with the CTFL, they're kind of keeping track."
Lyness also believes that young viewers will be inspired by watching kids around their age lace up beside established stars.
While the involvement of young athletes will benefit the league through viewership, Lyness said the CTFL is ultimately working towards a better future for them in the sport.
According to the CEO, one of the primary goals of his new league is to bring more money to a sport where athletes often pay out of their own pocket for travel, gear and more. 
"At this stage in Track and Field's development, we're just not there to help pay for someone's complete travel expenses," he said. "The CTFL is laying the groundwork for [young athletes] to be successful in their sport as a career."
Currently, the CTFL provides multiple channels of revenue to its athletes, the first being monetary prizes to the three athletes with the most accumulated points in each event. The league pays $400 to the first place athlete, $200 for second, and $100 for the third. $1000 is also given to the winning team for its 58 athletes to split evenly. Through the league's athlete content creation program, there is a $500 prize to the athlete who judges decide covered their season the best. 
Along with direct revenue, the CTFL also provides its athletes with a discount to New Balance.
Lyness said the league provides around $25,000 of revenue to its athletes, excluding what individual athletes receive through sponsorships. In the next three years, Lyness said he hopes to see that number rise to $50,000.
"Hopefully, by year five, everybody is being paid in the CTFL… first to last in each event," he said. "That'll be a really big thing for us."
While still quite young, Atonfo, Coughlin and Streek said they hope to see their track careers continue beyond highschool. All three athletes plan on taking their talents to the collegiate level, and even further if possible.
"I would like to continue [running] at the college or university level, competing for a school, wherever it is, here or the states," said Atonfo. "I'll just continue going and see where it leads me."


Coughlin said she wants to go as far as she can with the sport. "I want to be good. I want to be a really good athlete," she said.
Streek, who plays high level hockey, shares the same sentiment as her teammates, "I know hockey will stop after high school, but I don't want running to stop, and I don't think it will," she said.
As the athletes look toward a bright future in their sport, Lyness is working on "laying the groundwork" for that future to be more financially fair.
"Quinn, Grace and Timeo, If the CTFL is successful, they're going to be the ones to benefit the most from it," he said. 
"Hopefully one day, when they're just passing university… it'll be a league where they're making thirty or forty-thousand dollars a year from it and they don't need to lose money while doing the sport that they love."
---