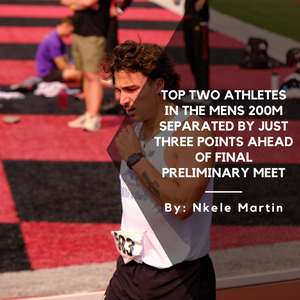 Top Two Athletes in the Men's 200m Separated by Just Three Points Ahead of Final Preliminary Meet
Nkele Martin
On July 5, CTFL athletes will be competing in the Ottawa Twilight meet, the leagues final preliminary meet of the season. The event is stacking up to be decisive for the mens 200m event, with first and second place runners Bertwin Ben-Smith (Bears) Sebastien Regnier (Arctics) sitting just three points apart. 
Currently, Ben-Smith leads the division with 45 total points, 25 for his CTFL record-setting preliminary run of 21.66 and 20 points for having the second fastest free mark time. Regnier has a total of 42 points, 25 for the fastest free mark time of the season, 21.58 and 16 points for his third place preliminary mark.
In order to move into first place, Regnier will only need to beat his preliminary time of 21.83 by 0.02 seconds, which would put him ahead of Spitfires' Kejean Jackson. With three points separating the two, the final race of the CTFL regular season will decide who leads the men's 200m division ahead of the championship.
Ben-Smith is coming off an impressive outdoor season which saw him break the CTFL record for the men's 200m. "I think my outdoor season is going quite well. I've never opened faster in any outdoor season in the 200m, but I still have some ways to go," he said.
Regnier has had a successful season, too, although it began somewhat slowly. Regnier says he was training well, but couldn't execute in his first few races. At the Johnny Loaring Classic in Windsor, Ont., Regnier says it all came together, and he ran a personal best of 21.58 seconds.
Now, with one race left in the CTFL regular season, Regnier has the chance to move into first place in the men's 200m division. "It's encouraging to see that [ I am highly ranked], especially since my season hasn't exactly gone to plan," he said.
Since Ben-Smith already has the fastest preliminary time, he is unable to gain any more points from the race. This means that the standings will be decided by Regnier's time. 
With the fate of first place out of his hands, Ben-Smith says he is not nervous. 
"I'm not worried about Sebastien's time, I'm just focusing on myself and what I can bring to the table. In terms of what I know that I can do and bring to the table, I'm more nervous about putting down a good time for myself with the heat tomorrow," he said. "It [the circumstance of the race] is kind of annoying, but that just means I have to run that much faster. It makes it more exciting at the end of the day," he said.
Regnier said he, too, was not feeling nervous, instead, he was excited for the race. In what may be his final competitive track and field season, he is focusing on enjoying his time on the track. "This is probably my last season running competitively…. I'm just trying to leave it all out there and have as much fun as I possibly can," he said.
Regnier is looking forward to possibly lining up beside Ben-Smith on the track. "Being able to compete against someone…. Being close to each other with [our] times and points is obviously exciting. It'll elevate the competition," he said.
It is hard to predict the outcome of the race, but if Regnier can come close to his recent personal best, he can move into first place ahead of the CTFL championship.
Regardless of the outcome of the race, both runners have already solidified their spot in the CTFL championship and will look to take home the CTFL gold - and the cash prize - on Aug. 5.
The final preliminary race is set to take place at 8 p.m. on July 5, at the Terry Fox Athletic Facility in Ottawa, Ont.
---