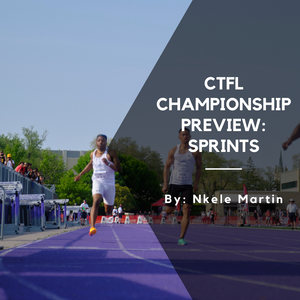 CTFL Championship Preview: Sprints
By: Nkele Martin
With the CTFL championship less than one week away, let's take a look at the final meet of the season. We'll be looking into each race, talking favourites and dark horses based on statistics.
Athletes are ranked based on points earned from CTFL preliminary meet marks, free marks, and bonus points for attending meets. Runners in first place may not necessarily have the fastest time in their event, just the most points between their marks. See this link for more information.
With one race left, anything can happen. Upsets and unexpected results are inevitable.
Mens 
Spitfires Brandon Letts sits in a pretty comfortable lead with 51 points, 14 more than second place Immanuel Onyemah. Letts ran his personal best of 10.22 at the Bob VIgars Classic on May 28, the ninth-fastest 100m run by a Canadian this season. Although his marks are faster than his opponents, Letts' lead does not guarantee him a first-place finish in the championship race, he will have to deliver another incredible performance. Domenic Barresi (Huskies) is the only other athlete to achieve a sub-10.40 run this season but unfortunately sustained an injury while competing at the Canadian Track and Field Championships.
Womens 
Unlike the men's division, the 100m women's rankings are very close, only two points separate leader Jorden Savoury from her Huskies teammate Kayla Vieux. Savoury - who just recently moved into first place after her teammate's free mark was beaten - has the fastest free mark in the division at 11.80, but her time is only 0.02 seconds faster than third place Shanice Williams. Savoury finished third in the preliminary mark with a time of 12.03, behind Vieux and fourth place Élodie Baulu. With less than half of a second separating first and sixth place, the title of CTFL 100m women's champion could go to anyone.
 Mens
David Adeleye finished the season with 45 points, finishing with the fastest preliminary time (13.92) and the second fastest free mark (14.01). Both of his marks are almost half of a second faster than his competitors. Due to the absence of Craig Thorne, the only athlete to beat his marks this season, Adeleye looks likely to become champion. 
Womens
With the top two runners in this division tied with 46 points, the women's 100mH promises to be a good race. Spitfires' Tyra Boug and Arctics' Adenike Abiodun both finished first and second in their free and preliminary marks. Boug's 13.54 preliminary time is faster than Abiodun's by a fifth of a second, and Abiodun (13.65) has the faster free mark by around a tenth of a second. While Boug's 2019 personal best of 13.44 is faster than Abiodun's, it is hard to predict which of the two will come out on top at the CTFL championship.
Mens
200m CTFL record-holder Bertwin Ben-Smith comes into the finals leading the division with 46 points, but, as previously reported, he had fierce competition. The final preliminary meet saw second-place Sebastien Regnier - just three points behind Ben-Smith - miss out on the chance to move into the top spot. Due to a hamstring injury, Regnier has been forced to miss out on the race, leaving Ben-Smith to be the favourite. The race is not guaranteed to be won by the leader, however,  as seven out of the eight athletes that will lace up in Ottawa have run sub-22-second times this season. Watch out for Spitfires Kejean Jackson, and Huskies athlete Seiyf Gebara.
Womens
Just one point separates Huskies teammates Tameran Defreitas (41) and Imani Reid (40). Despite being the top runners in their division, the holder of the fastest time is Victoria McIntyre. McIntyre only has an official free mark and sits in fourth with 25 points. McIntyre's time of 23.77 was her personal best, and the only sub-24-second time in the division. The three aforementioned runners will come together for the final race, in which only one can win.
Mens
Arctics Michael Roth leads with 50 points and almost a one second gap between his marks and the next fastest runner in the division. Roth, who placed seventh at the U20 World Championships in 2021, ran his personal best of 45.82 on July 21 at the NACAC U23 Championships in San José, Costa Rica. Roth's time is currently the third fastest 400m in Canada this season. Second and third-placed Tyler Cox-Yestrau and his Spitfires teammate Tyler Harper are the only two runners - besides Roth - to record sub-47-second times this season and will look to upset the dominant Roth with a strong showing in Ottawa.
Womens 
Another Arctics athlete in Favour Okpali leads the women's division. Okpali, just like her teammate Roth, sits atop the standings with 50 points, meaning she holds the fastest preliminary and free mark. Okpali is the only athlete to record a sub-56-second time this season, running a 55.54 at the Bob Vigars classic, a CTFL preliminary meet. Okpali will face off against second-placed Doyin Ogunremi of the Bears, a national champion. Ogunremi won the 2022 National Championship in the 4x400m relay, and has a faster personal best than Okpali, running a 55.18 in the same year she won the championship. With her best run of the 2023 season being 56.16, Ogunremi will need to return to her 2022 form to win the CTFL championship. Sixth-placed Sophie Ba of the Huskies is one to watch out for, too, running a 55.22 in 2022. This season, the Huskies runner has a best time of 56.74. 
Mens 
Olympian Roxroy Cato has a commanding lead, as a three second gap separates him from second-placed Joshua Adhémar. The Bears athlete, ranked 49 in the world by World Athletics, is the obvious favourite to win the championship. Behind Cato, the order is hard to predict, as the second to fifth fastest runners are less than one second apart. Bears David Moulongou has the fastest time of the four athletes at 52.52, but Adhémar, and Arctics teammates Saj Haddad and Oliver Grant are not far behind.
Womens
Leader Alexandra Telford has nine seconds on the marks of second-placed Stephanie Leask. The Arctics athlete was a part of the same National Championship-winning 4x400m relay team as Bears 400m runner Doyin Ogunremi. Telford ran her personal best of 58.74 this season, and if she can run a race in line with her impressive form, she will surely be CTFL champion. In a division where only four runners recorded marks, Leask of the Huskies and Spitfires' Sierra Sweeney look likely to compete for second. Leask has the faster marks, but Sweeny is less than one second behind.
---